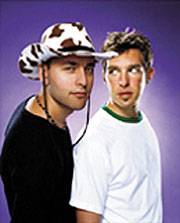 Clint Cowen and Norm Korpi are co-directors of The Wedding Video. Korpi is a former inhabitant of MTV's The Real World and is the star of the film; Cowen is the videographer.

• THE WEDDING VIDEO'S GAY GUYS
by Blase DiStefano

OutSmart: When and where were you born?

Clint Cowen: Tulsa, Oklahoma … in the early morning.

Norm Korpi: I was born during the summer of love in a little hamlet called Wakefield, Michigan.

OS: When did you realize you were gay?

Cowen: At a sleepover with a really dirty boy in my neighborhood … he was hot. We shared a bed that he usually slept in with his brother. I woke up in the middle of the night and he was spooning me.

Korpi: When I was fingering a Sports Illustrated magazine, I came across some randy photos of the L.A. Dodgers after a game in the locker room being interviewed in their jockstraps. Total boneage.

OS: Was it easy/difficult to deal with?

Cowen: Well, at the time I didn't deal with it at all; I didn't come out till I was 24. It wasn't hard once I made my decision.

Korpi: I came to terms with my sexuality shortly after college when I had a secure group of friends that I called my family. My natural family followed my lead once they knew I was happy and this was something that was true to me.

OS: How did you meet Norm/Clint?

Cowen: I met Norm in L.A. at a mutual friend's house watching movies on one of the only rainy days.

Korpi: I met Clint during a round of Joan Crawford films on a Saturday afternoon.

OS: I read that you two are partners. Is that business and/or otherwise?

Cowen: Business.

Korpi: You couldn't ask for a better friend than Clint, but he knows I am a whore, and things would never work between us because we are both tops. We keep things clean, wolf-pack like.

OS: How in the hell did you get this entire group together? It must have taken ages.

Cowen: Actually, Norm made that part really easy. He got to know everybody from the MTV reunions and such. Everybody was really gung-ho to work on the project. We're all friends in real life, so it was just like messin' around.

Korpi: Well, our favorite word is "free." And I just rang the dinner bell and the kids came a-running. Really, these people did this out of love for me. They believed in me. And thank you for recognizing their talents and wacky little film.

OS: You're welcome. If you were stranded on a desert island, and you could have only one celebrity or famous person with you–not a friend. lover, or family member–who would it be?

Cowen: That one's easy … Richard Hatch.

Korpi: The ROCK.

Cowen and Korpi will attend the June 14 screening of The Wedding Video at Rice Cinema. For more info, call 713/348-4853 or visit www.ruf.rice.edu/~cinema.

• THE WEDDING VIDEO Norm Korpi, real-life celebrity of MTV's The Real World, co-directs and stars in this spoof of the genre that made him famous. Norm is getting married, and this ain't no normal wedding. Norm's mother refuses to attend, instead sending him a $10,000 write-off check, his soon-to-be-spouse Sky (conveniently rhymes with guy) is packing a secret, and Norm's back-stabbing friends travel from far and wide to witness the spectacle unfold. Caught in the middle is the hired videographer (co-director Clint Cowen), who captures every juicy moment of scandal. Directors Cowen and Korpi and select cast members will attend this screening. A mini-interview with the directors follows. 7:30 p.m., Friday, June 14, @ Rice Cinema, Rice Univ. Campus, entrance #8, 713/348-4853.
If you have any comments about this article, please email them to letters@outsmartmagazine.com.
Back to all news clippings