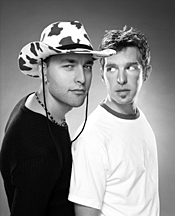 06/20/2002
Out & On the Move
Q Cinema brings gay and lesbian film to Fort Worth.
By Kristian Lin

Norman Korpi and Clint Cowen, star and director of 'The Wedding Video,' part of Q Cinema.
Q Cinema runs Jun 20-29 at various locations, FW. Tickets are $7-10 for individual screenings, $65 for an all-festival pass. Call 817-462-3368.
Filmgoers attending the fourth installment of Q Cinema, Fort Worth's annual gay and lesbian film festival, will find a new atmosphere surrounding the event this year. For starters, the festival isn't centered on the downtown multiplexes. "AMC Theatres basically priced us out of the market," said festival director Todd Camp. "The costs [of renting the screening rooms] were just prohibitive ... plus, we're a summer festival. If we hold the festival in November, we've got no problems, but AMC has to look at the numbers if we're bumping Spider-Man off the screens."
While some films will still screen at Caravan of Dreams, most of the movies will be shown in west Fort Worth. "Having to look around opened my eyes to new venues," Camp said. "The Ridglea Theater is a terrific place." Besides hosting many of the screenings, beginning next month the Ridglea will also hold a Q Cinema-sponsored monthly series for gay-themed films appealing to niche markets (e.g. transgender, audiences of color, teens).
The festival begins at Ridgmar Movie Tavern (the dinner-and-movie place) on Thursday with a screening of Notorious C.H.O., a concert film of standup comic/gay icon Margaret Cho that follows up her previous film, I'm the One That I Want. It ends with a personal appearance by John Waters at Scott Theatre on June 29. Wherever the festival is, let's hope that the communal atmosphere attending it in past years follows it.
You can reach Kristian Lin at kristian.lin@fwweekly.com.
------------------------------------------------------------------------
©2001 FW Weekly All rights reserved.

Back to all news clippings